The classic pulp magazines of the 20th Century, so-called for their paper quality.
All American Editions unless annotated as UK Edition.
ASTOUNDING
NOVEMBER 1946
GD £4
Sturgeon, Simak, Chandler, Van Vogt and others
ASTOUNDING
SEPTEMBER 1949
VG £5
Anderson, Clarke, de Camp and others
ASTOUNDING
NOVEMBER 1954
FN £4
Budrys, Anderson and others.
ASTOUNDING UK
JANUARY 1959
VG £5
Simak, Garrett and others.
Cover art by Freas
NEW WORLDS (UK)
147 FEBRUARY 1965
GD/VG £5
Edited by Michael Moorcock. Arthur Sellings, John Baxter, James Colvin (Moorcock), Richard Wilson and others.
NEW WORLDS (UK)
155 OCTOBER 1965
GD £4
Edited by Michael Moorcock. Harry Harrison, Daphne Castell, Bob Shaw and others.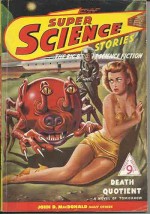 SUPER SCIENCE STORIES UK
SEPTEMBER 1950 #1
VG £15
John D MacDonald & others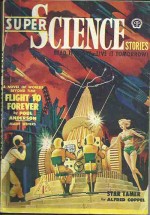 SUPER SCIENCE STORIES UK
APRIL 1951 #3
VG £12
Poul Anderson, Chad Oliver & others
Interior art by Virgil Finlay
SUPER SCIENCE STORIES UK
JUNE 1952 #8
GD/VG £10
Henry Kuttner, Manly Wade Wellman & others
Cover art by Virgil Finlay
SUPER SCIENCE STORIES UK
JULY 1952 #9
VG £12
Frank Belknap Long & others
Cover art by Virgil Finlay

SUPER SCIENCE STORIES UK
NOVEMBER 1952 #11
VG £12
Isaac Asimov, Henry Kuttner & others
SUPER SCIENCE STORIES (NOVELS) UK
APRIL 1953 #13
VG £12
Binder, Asimov, Cummings & others