American Update: A Double Date With Patsy! Patsy Walker's First and Second Appearances Ever, plus Timely Super-Heroine in Miss America #2 & #3 (1944)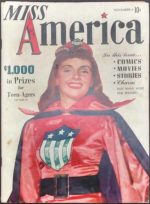 *Teen Humour/Funny Girls: Timely/Atlas' Miss America Magazine wasn't named after the beauty pageant, but after Miss America, the premier super-heroine of Timely Comics, created by Otto Binder, who made her debut in Marvel Mystery Comics #49 in 1943, and proved so popular that she was awarded her own title a year later. With the second issue, however, the editors decided to alter the concept. From a straight super-hero book, Miss America became a hybrid comic and general girls' magazine, with features on fashion, beauty, dating, movies, and prose fiction in addition to the comic strips. More significantly, from our perspective, a new feature was introduced. Patsy Walker, created by Stuart Little and artist Ruth Atkinson, graced the pages of Miss America Magazine #2 for the first of thousands of stories over dozens of titles. We have Patsy's first two appearances available for purchase.
Miss America Magazine #2, November 1944, features a 14-page story of Miss America versus super-villain 'The Shocker', and a photo-cover of a model dressed in the super-heroine's iconic costume, the first 'super-hero cosplay' cover we're aware of. Patsy's 7-page debut is the only other comic-strip content in this 68 page issue. As previously noted, Ruth Atkinson drew Patsy, while Miss America's adventures by this time were illustrated by Pauline Loth, a former animator, in a delightful lively style. This copy of Miss America #2 is Apparent VG/FN: there is slight foxing on the white cover background, but the interior pages are cream-coloured and flexible, no trace of brittleness and browning, the staples firm at cover and centrefold; the top staple is loose at the front cover only. The reason for the 'Apparent' designation is that pages 39-40 have had a large corner, approximately 25% of the page, ripped out. This does NOT affect the comics, but impacts upon two text features, a fashion page and a story on baby-sitting. Otherwise this is an extraordinary grade for its vintage. #2 App. VG/FN, on sale at £1,750. Images of front and back cover, splash page and Patsy splash page are shown to the left above; high resolution images are available on request.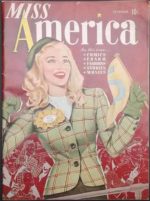 Miss America Magazine #3, December 1944, is a 'girl power' special! In addition to all the text features carrying female bylines, Ruth Atkinson illustrates Patsy's second story, the striking painted cover is by Louise Alston, and Pauline Loth illustrates not one, but two Miss America tales, as our teenage heroine takes on the villainous King Cobra and 'The Mystery of the Ring!' This is an unabashed Fine, with only very minor wear at the extreme outer edge. Cover colours are bright and vivid, interior page quality excellent, staples firm and tight corners. On sale at £900. Images of front and back covers, splash page, Miss America splashes and Patsy spalsh are shown to the left and below; once again, high resolution images are available on request.
These issues carry not only the cachet of Patsy's earliest appearances, of a character still active in the Marvel Comics and Media Universes today, but also of being Golden Age Timely super-hero issues – Miss America herself has appeared many times in the current Marvel Universe in flashbacks and retro series, so both characters have strong ties to the current continuity. We anticipate keen interest in these lovely items, so don't hesitate!