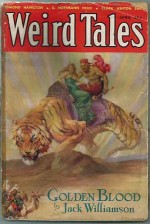 *Pulp Fiction: Weird Tales was published in its first run from 1923 to 1954, generating a new genre, 'weird fiction'. It struggled financially for most of its time, not helped by being almost closed down when a 1924 story caused outrage by mentioning necrophilia. Circulation figures for other pulps were considerably higher: Weird Tales never passed 50,000, compared to figures of 300,000 for titles such as The Shadow or Doc Savage. Nevertheless Weird Tales was highly influential, evidenced by its enduring fascination with collectors. It launched the careers of several influential artists (notably Virgil Finlay, Hannes Bok and Margaret Brundage, the only female cover artist of pulps) and numerous authors. When the title started it particularly featured H P Lovecraft, Robert E Howard, Clark Ashton Smith and Seabury Quinn. Later a host of newer authors honed their skills (and paid their bills) writing for Weird Tales: Robert Bloch, Ray Bradbury, Henry Kuttner, Fritz Leiber, C L Moore, Margaret St Clair and Theodore Sturgeon.
Today we release 24 Copies of Weird Tales spanning three decades, 1930's to 1950's. In addition to the cover artists already mentioned there are gems by Jon Arfstrom, Lee Brown Coye, Boris Dolgov, Joseph Eberle, Matt Fox, Frank Kelly Freas, John Giunta, Ray Quigley, J Allen St John, A R Tilburne and Bill Wayne. Two issues (December 1938 and November 1939) also have whole page internal art by Virgil Finlay. Featured writers not previously mentioned include Isaac Asimov, August Derleth, Alison V Harding, William Hope Hodgson, Frederik Pohl (writing as James Macreagh), Eric Frank Russell (writing as Duncan H Munro) and Jack Williamson.
Notable issues include April 1933 (GD £75), June 1937 (VG £75), March 1940 (VG £60), September 1940 (VG £60), the 25th anniversary copy from March 1948 (VG £50), November 1949 (FN £50) and March 1953 (VG/FN £50).