What's In A Name? Why We're Called '30th Century Comics'
We have been asked on many occasions why we're called '30th Century Comics', particularly why such a futuristic name for a business that specialises in vintage comics and books?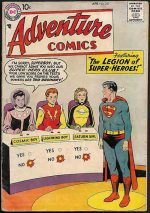 Of course, many comic fans will recognise that the 30th Century was the original setting for the DC series the Legion of Super-Heroes, the founding characters of which debuted in the Superboy story in Adventure Comics #247 (April 1958). The LSH was the favourite series of three out of the four of us who formed the business (and our fourth partner was a fan too!). When we got together to form a comic business in 1994, we therefore wanted a name that celebrated our heroes, particularly since three of us met through an APA (Amateur Press Alliance) devoted to the LSH. It was Will who suggested '30th Century Comics' , and it seemed appropriate without being too obvious.
That was a long time ago (over 26 years now), and things move on. We survived a fire above our premises and bounced back from an ensuing closure of six weeks. Sadly, one of our founders died. We carried on, forging our business into very much the type of comic shop we'd like to visit, adding British comics and vintage books to our stock. A few years ago we dropped new imported American comics from our operation in order to concentrate on the vintage back issues we love. Today, we believe we are uniquely placed in the world, selling vintage comics (both American and British) and genre books in a bricks and mortar shop as well as a thriving mail order worldwide business. Currently, in 2020 of course, we have had to close our doors temporarily due to the coronavirus pandemic; but we'll be back.
The Legion of Super-Heroes has moved on too, in a chequered career of highs and lows at DC Comics. But we've resisted rebranding as 31st Century Comics; the roots of what drew us together can be found in those wonderful Legion of Super-Heroes stories from the late 1950s and early 1960s (the best of which were scripted initially by science fiction alumnus Edmond Hamilton), when Legion teams were picked by a Planetary Chance Machine, when Light Lass exercised with a Cellular Trim-Ray and Invisible Kid put his foot on the gas pedal to accelerate the Legion spaceship. It's that retro future vibe that typifies what we sell and what we stand for – welcome to the 30th Century, way back when.
Rob Rudderham, March 2020