All American Girl: Marvel Comics' First Super-Heroine
Madeleine Joyce, a.k.a. Miss America, holds a unique position in the Marvel Universe – she's the first super-powered woman from that company (not then known as Marvel, of course) to don a distinctive costume and battle for the forces of good.
She had two predecessors, of sorts, but one wasn't super, and the other definitely was no heroine, although she did unwittingly do good things. Zara, a generic, if reasonably modest jungle queen, debuted in Mystic Comics #2 (April 1940), and the decidedly more interesting Black Widow (no relation to Madame Natasha) premiered in Mystic #4 (August 1940), a Satanically resurrected medium who went around slaughtering evil men to consign their souls to Hell.
But it wasn't until Marvel Mystery Comics #49 (November 1943) that a bona fide super-heroine emerged. Madeline Joyce was a 16-year old orphan living with her late father's business partner (Child protection laws being hazier back then…) whom she addressed as 'Uncle Jim'. Uncle Jim takes Maddie to visit a scientist friend – but en route, Madeline's social warrior bona fides are established when she intervenes as a crippled newsboy is being bullied.
Uncle Jim's chum, Professor Lawton, explains agitatedly that his invention has gifted him with superhuman strength, the ability to defy gravity, and 'unusual perception'. Fearing that his old pal's one issue short of a mini-series, Uncle Jim hastily escorts Madeleine away, but our do-gooding heroine returns late at night to snoop about, and zaps herself with Lawton's invention. Lawton finds the unconscious girl, and, thinking her dead, remorsefully destroys himself and his machine– but on awakening, Madeleine is gifted with amazing powers, and decides to use them to defend the common man as Miss America!
Originally those powers were flight, x-ray vision (which could not only penetrate objects, but destroy them), 'the wisdom of the ages', and 'the strength of a thousand men!', putting our heroine in the Superman class and making her Timely's most powerful hero by quite a margin. Within a few issues the power set was toned down to flight and some level of physical superiority – enough that she could break ropes and sometimes chains, but could still be overwhelmed by, say, a sneaky blow to the back of the head.
All of this is pretty standard for the time, but Miss America stood out through her independence. Of an age when she'd be expected to be a sidekick, she was out on her own. She's often dismissed (even by some sloppy so-called 'experts') as a distaff Captain America, but there was no connection between them – they didn't even meet until three years after her creation – and her power set was both different from and superior to Cap's. In-story, although nominally the 'ward' of her father's pal Jim, Madeline drove around town on her own, had (at least some of the time) a luxurious penthouse apartment, and lived a remarkably unsupervised life for a minor. And uniquely for a 1940s heroine, there was no boyfriend, no steady, no male authority figure of any kind, and never the remotest hint of romance. Unencumbered by a drippy love interest, she took charge and kicked arse on her own initiative –often with lethal consequences to her foes. Okay, she didn't actually set out to kill any of them – but if they were collateral damage during battle, she was very much 'Well, they brought it on themselves'.
And what villains they were! Yes, the usual thugs, mobsters and con men – often with quite ingenious schemes – but also a variety of strange and disturbing malfeasants with horrific overtones. King Cobra, the Fox and the Vixen, the Black Widow (not that one – no, not that other one, either), the Flaming Hate, the Walking Corpse, Miss Bluebeard, the Ghoul of the 13th Floor, Adonis, the Shocker – all introduced and dispatched in short order, usually in seven pages or less, taut action thrillers that could teach a great many of today's waddling, flatulent 'storytellers' some tricks about moving a plot along!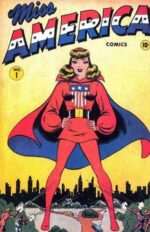 Within a year Madeline got her own title, and by contemporary accounts Miss America Comics #1 was a huge success. Yet with the second issue, it morphed into Miss America Magazine, a curious amalgam of women's mag and comic book, with most pages given over to text about fashion, movies and beauty tips. Further, issue #2, despite an unusual photocover of our costumed heroine, carried within it the debut of Patsy Walker, a teen comedy heroine who within a few issues would shoplift Madeleine's own title away from her! Miss America Magazine continued until the late 1950s – but without Miss America in it!
Miss America solo stories continued to run in Marvel Mystery Comics until #85 (February 1948), as well as occasional guest gigs in other titles such as All-Select and Blonde Phantom. The final ten MMC stories were, unusually for the time, chapters of a tale intended to invoke movie serials, with Madeline recruited by government intelligence to track down a list of Nazi war criminals intercepted by enemy agents.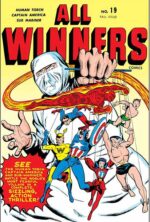 Her highest profile gig, however, was in All-Winners Comics #19 and #21, the only two appearances of the All-Winners Squad, Timely's attempt at a super-hero team. Alongside Captain America and Bucky, the Human Torch and Toro, the Sub-Mariner and the Whizzer, Miss America faced off against Isbisa and the evil duo of Future Man and Madame Death, acquitting herself admirably.
With dwindling Post-War interest in super-heroes, the publisher switched tack to other genres – war, crime, romance, horror, western – famously reinventing themselves in 1961 with the publication of Fantastic Four #1 and what would become the Marvel Universe. By 1975, fan-turned-pro Roy Thomas had revived the Cap, Torch and Namor in new WW-II stories as the Invaders, and he followed up with a second team, the Liberty Legion. Miss America was present, but while portrayed as a perfectly competent heroine, the zing and zip of her Golden Age adventures was lacking. Instead of a solo star, she was one of an ensemble, and Thomas having previously romantically linked her and fellow-Legionnaire the Whizzer in a retcon flashback in Giant-Size Avengers #1, her subplots were inevitably pivoted around her boyfriend's.
There was one more solo Miss A. adventure, though. In 2009, a Miss America Special was released, along with other 'new' Golden Age one-offs to celebrate the company's 70th Anniversary, and Jen Van Meter and Andy MacDonald provided, in 'Shipyard Sabotage', a rollicking retro romp, complete with a United Nations of villainous spy gals!
Miss America's place in Marvel history has now been largely usurped by America Chavez, a bisexual Latina heroine from an alternate dimension who was introduced in 2011, and who has become popular through appearances in the Young Avengers and elsewhere. While America Chavez (also sometimes known as Miss America) is a fun character, inventive, ground-breaking and imaginative, it's a pity that she's occupied the 'ecological niche' of Madeline Joyce to the extent that, when Marvel Comics #1000 was published with a retrospective view of all significant events in Marvel's history, the page specifically citing Marvel Mystery Comics #49 featured, not Madeline Joyce… but America Chavez.
It's time to give the gal some respect, Marvel. She was the first costumed heroine of your history, a major player in the 1940s, and, through retcons and flashbacks, still a presence in the Marvel Universe despite the fact she's been deceased since the 1950s! Give a girl her due.
No harm to America Chavez, but really – isn't there room in fandom's heart for two Misses America?
Will Morgan, May 2020