The Maze Agency: Detective Fiction In Comic Form (with Adam Hughes)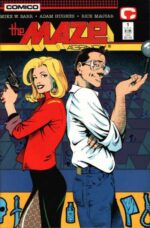 Something a little different this week, as we take a look at something more modern than our usual fare (if you count 1988 as modern, that is!). The Maze Agency was one of the series to benefit from the 'Indie Boom' of the 1980s, a rich vein of quality material from other than the big publishers and not focusing on super-heroes. It's crime or detective fiction, of the Golden Age whodunit style of Christie, Doyle, Sayers etc rather than the hard-boiled stuff of Chandler and Spillane etc, but with a contemporary setting.
The Maze Agency is a New York detective outfit run by Jennifer Mays, ex-CIA, wealthy, successful and drop dead gorgeous. She's joined on her cases by her chap Gabriel Webb, a true crime writer and amateur sleuth, who's usually just as sloppily dressed as Jennifer is elegantly turned-out. Together they solve impossible crimes and unfathomable whodunits. Each story is a challenge to the reader to solve the clues leading to the revelation of the murderer or resolution of the mystery. I have to say that these are not easily solved!
One of the highlights of the series (apart from the mysteries, of course) is the verbal interplay between Jennifer & Gabe, full of witty banter and sparking repartee. Imagine 'Moonlighting' with decent plots and adult characters. Having said that, Jennifer and Gabe are much more equals, like Maddy and David, rather than Holmes & Watson or Poirot & Hastings. There is also a cast of regular supporting characters, from the (even more slovenly than Gabe) Lt Roberta Bliss and her sidekick Sgt Stubbs, rival detective Ashley Swift, Jennifer's parents and her secretary Sandy.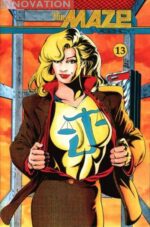 The Maze Agency has a confusing publication history. The original series of issues #1-7 were from Comico; then publication switched to Innovation after Comico folded for issues #8-23 of the original run, plus 1 Annual, 1 Special and a TPB which featured a new cover and story as well as reprinting issues #1-4. Then in 1993, there was a Maze Agency short in the anthology title The Detectives from Alpha Productions. Finally, there were two short series of 3 issues each from Caliber (1997) and IDW (2005). (There were a couple of prose stories in other titles, but I've never seen those).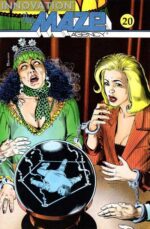 All the stories were written by the series creator Mike W Barr, a self-confessed fan of the genre. The original designs for Jennifer and Gabe were by Alan Davis (who drew the pilot story 'The Mile-High Corpse' which eventually surfaced in the Special, having been produced in 1986, two years before issue #1 and as a vehicle for Barr to promote the series to prospective publishers). By the time we got to 1988, the regular pencilling assignment had been allocated to a newcomer by the name of Adam Hughes.
These days Hughes is one of the hottest names in comics; his work (mostly restricted to covers) is avidly collected, and his original art changes hands for small fortunes. Back in 1988 he was an unknown; I remember buying #1 (being a fan of the genre myself) and thinking 'wow, this artist isn't bad for an Alan Davis imitator…' He drew #1-5, #8-9 plus #12 of the original series, plus the short in the TPB 'Murder In Mint Condition', originally presented as a promotional copy at the San Diego ComicCon 1988. Back then, kids, you got a whole comic drawn by Hughes! As well as this, he drew many subsequent covers, the last being on issue #3 of the Caliber series. There was a nice bonus in the Comico run in that the back cover featured a Hughes picture advertising the next issue (which wasn't the cover of the next issue), so you got in effect an extra cover by him. When the series switched to Innovation, the covers changed to appealing wraparounds.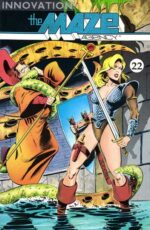 The artwork following Hughes was usually competent, sometimes excellent if seldom spectacular, although there was a fine range of cover artists including Alan Davis, Russ Heath and Brian Bolland. There's a brief cover gallery included here (from top to bottom): Maze Agency #1 (Comico) by Hughes, #11 (Innovation) by Alan Davis, #13 by Hughes (Jennifer appears as the super-heroine Justice Girl at a fancy dress ball), #20 by Brian Bolland, #22 by J Trent and Jan Duursema (a fantasy sequence in a role-playing game mystery) and #3 (Caliber) by Hughes. A word should also be said in praise of Rick Magyar, whose fine inks adorned the work of Hughes and many other artists on the series.
The artwork is a bonus. As a fan of detective fiction myself (from Sherlock Holmes through to Phryne Fisher), I love these stories and the 'fair play' challenge of writer Barr to the reader. And I also love the relationship between Jennifer and Gabe, with a tip of the hat to their comic predecessors: Ralph & Sue, Carter & Shiera and Hank & Jan (and if you don't know who I'm talking about, shame on you!). Can I dare to hope that one day we may yet see the further adventures of the Maze Agency?
Rob Rudderham, May 2020