American Update: The Atlas Explosion! Pre and Post Code Horror Mega-Fest continues with Marvel Tales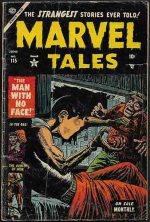 *Horror 1940-1959: Technically a Timely title when it started, Marvel Tales took over the numbering of the company's flagship title, Marvel Mystery Comics, when it launched in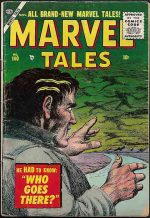 1949 with issue #93, and the former home of Captain America, the Sub-Mariner, Human Torch, Miss America and the Blonde Phantom became the dwelling of vampires, monsters, werewolves, ghosts and ghouls – and a howling success they made of it! We have 25 vintage Marvel Tales newly in, commencing with issue #113, and ending with 1957's final issue, #159. This tasty torrent of terrors includes stellar artwork by Kubert, Krigstein, Ditko, Williamson, Wood, Morrow,
Powell, Drucker, Kane, Orlando, Romita and Sinnott, as well as the ever-reliable, always excellent trinity of Maneely, Heath and Everett – the latter of whose 'End of the World' story in #153 is regarded as one of his finer works. Over half of this update – 14 out of the 25 – are illustrated here: #113 GD/VG £90, #115 GD/VG £90, #120 FA/GD £53, #136 VG- £64, #137 VG £66, #138 VG £73, #140 VG £66 (two copies, in identical grades and prices), #142 VG+ £74, #144 VG+ £74, #145 FN £98,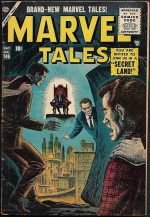 #146 VG+ £63, #154 VG £56, #157 VG+ £64 and #159 VG+ £64. As always, however, with our recent large Atlas updates, there is a plethora of lower-graded issues at very economical prices, so do remember to check the online listing for more details.