British Comics Update: Debbie & Spellbound 1978 with the Supercats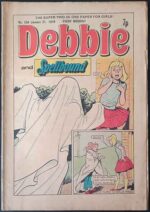 *Girls' Comics: in 1978, when the spooky title Spellbound folded after 69 issues, it was merged into the long-running Debbie with issue #258, and the title for a while was known as Debbie and Spellbound. Something of the atmosphere and features of Spellbound were carried across with supernatural stories, but most notably the stars of Spellbound, the Supercats, moved across for more space-faring super-heroine adventures (and chances to join the Supercats club!). Our heroines stayed put until issue #272, where they finally bowed out. We have the complete Supercats in Debbie & Spellbound new in this week; please see our catalogue for details.
PICTURED: DEBBIE (& SPELLBOUND) #258 GD £2.50 1st Debbie and Spellbound; 1st Supercats in title. Small central spine split.