British Update: Long Hot Summer: Rare Bunty Summer (Very) Specials – From the Very First 1963-1975
*Girls' Comics: The definitive British Girls' comic, Bunty was not the first such, but it was the most enduring, lasting for 2249 weekly issues from 1958 to 2001. It is remembered fondly by generations of followers of the Four Marys, Lorna Drake, Moira Kent, and our eponymous tomboy heroine.
Bunty was the first of the D.C. Thomson girls' titles to get her own oversized Summer Special, and the first of these, released in 1963, is believed to be one of the rarest, if not the rarest, Summer Special.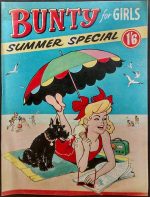 We have acquired several Bunty Summer Specials, in an extraordinary state of preservation, given their vintage and the fact that these large-format magazines were often creased, folded or damaged either on display or in the possession of eager young readers.
We begin with 1963, the first Bunty Summer Special released, in FN+ at £400; then we progress to 1965 FN+ £175, 1968 FN+ £100, 1970 VF £100, 1971 FN+ £60, 1972 (the original, not the smaller facsimile souvenir released in 2009) VF £85 and 1973 FN £50.
From 1974 to 1979, there were no 'solo' Bunty Specials released; instead, our heroine teamed up with stablemate Judy for the Bunty/Judy Summer Special, featuring popular series from both weeklies, and our final entry in this listing is the 1975 Bunty/Judy edition VF £85.
All of these remarkably preserved items have tight staples with no rust or discolouration; clean, bright, vibrant colours with minimal fading or occasional slight dustshadows at edges; sharp corners, glossy interior pages with absolutely no stains, scribbles or other markings.
The provenance of this selection is from a newsagent's former stock, archived for decades, and we suspect that not only were they never sold, they were never even opened prior to our assessment of them.
We confidently predict that these are the nicest examples you'll find – and in several cases, the only ones you'll find!