The scientist/leader. His best friend (who's big and strong). His girlfriend. Her kid brother. Sound familiar? Yes, of course, that's the format of the team in Rip Hunter, Time Master… Before this tried and tested line-up was borrowed by Stan & Jack to usher in the Marvel Age of Comics with Fantastic Four #1 (November 1961), DC had several attempts with very similarly related groups of characters.
Rip Hunter, Time Master debuted in DC's try-out title Showcase in May 1959, four and a half years before a certain time-travelling Time Lord (there are similarities in that Rip's Time Sphere travelled in time and occasionally space, combining historical settings with science-fiction themes from time to time). Rip was a scientist who invented said Time Sphere and persuaded his friends to accompany him on various adventures in which they encountered Hitler, George Washington and Cleopatra, among many others; aliens and magical adversaries were also not uncommon. Rip's companions comprised Jeff Smith, his strong best friend, Bonnie Baxter, his girlfriend, and Corky Baxter, her kid brother. They first appeared dressed in 'civvies' but later adopted a team costume. Created by writer Jack Miller and artist Ruben Moreira, the concept was popular enough to get four try-outs in Showcase before being promoted to its own series which lasted 29 issues. Time travel stories are always engaging, with a different setting each issue, and although the writing and art was sometimes patchy, there is imagination, adventure and humour within the pages of this fine series and outstanding issues drawn by Mike Sekowsky, Joe Kubert and Alex Toth.
Less than a year later, in August 1960, two more teams of four adventurers debuted in Showcase and DC's other try-out title The Brave & The Bold.
Sea Devils (no connection to the Dr Who story of the same name), beginning in Showcase #27 comprised leader Dane Dorrance, his big strong best friend Biff Bailey, his girlfriend Judy Walton and her kid brother Nicky. These four were engaged in undersea adventures at the hands of Robert Kanigher (writer) and Russ Heath (artist). The same dynamic existed between the team as with Rip Hunter & co. The Sea Devils had undersea adventures for three issues of Showcase and 35 of their own series. I think they may have stumbled across more lost civilizations than Tarzan did in Africa (and that's going some!), and a monster lurked within every coral reef. Their early adventures were often mind-warpingly wild as was the case with a lot of 'Barking' Bob Kanigher's output, and the art by Russ Heath was superlative (you could really believe these adventures were happening underwater). Later, after the departures of the creators, subsequent hands provided more ordinary fare, though competently done for the most part.
So, the Sea Devils had under the oceans covered, whilst over at the Brave & the Bold, Cave Carson and his chums were doing the same thing under the Earth. Cave was the least successful of these classic foursomes; despite no less than five try-out issues in Brave & Bold (commencing with #31) and a further three in Showcase, Cave never graduated to his own series. Created by Ed Herron (writer) and Bruno Premiani (artist), the dynamic was slightly different here. Cave was the leader, with his big strong best friend Bulldozer Smith and his girlfriend Christie Madison, and there it stopped initially (unless you count Bulldozer's pet lemur Lena as the fourth member, but that would just be silly). A few issues later they got their fourth member: Johnny Blake, but despite being a young hothead, he was not Christie's brother – rather he was Cave's rival for her affections. Cave and co. descended into the Earth in their Mighty Mole, to discover it was just as populated as under the ocean with lost civilizations (had the series gone on long enough, they would surely have encountered Dr Who's Silurians). Their adventures were fairly standard offerings, and perhaps it's not hard to see why this series was the least successful under scrutiny here, although special mention should be made of one superb issue (Brave & Bold #40), illustrated by Joe Kubert at the height of his powers.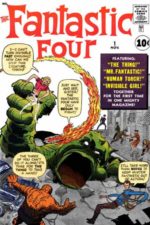 A year and a bit later saw Fantastic Four #1 hit the stands. Stan Lee had been charged with coming up with a title to rival the success of DC's Justice League of America, but he didn't follow the format of DC's flagship title by bringing together all their most famous established characters into one team. He couldn't do that at that time of course because Marvel didn't have any established characters, so instead he copied the dynamic and formula of the DC teams we've been discussing. Like Rip Hunter and his chums, they first appeared in normal clothes before getting costumes in a later issue, and Sue Storm of course had her hothead kid brother, but the Sub-Mariner came along in issue #4 to fulfil the other half of the Johnny Blake character. (Stan Lee and Jack Kirby would of course go on to use the JLA format for the Avengers a couple of years later). Unlike their format predecessors, the Fantastic Four had super powers and went on to fight super-villains etc to become the most famous example of this four hero line-up in comics' history. But Rip and Cave and the Sea Devils got there first.
There were other foursomes from DC where the format was a bit different (Challengers Of The Unknown, the Suicide Squad, even the Doom Patrol) and mention might just be made of another foursome, the Fab Four from Dell, much later in 1967 (in a very silly series called the Super-Heroes), but there was no congruency there, any more than there was with the real Fab Four, which leads me to the Monkees (also a comic version from Dell), and then on to DC's Maniaks, which almost followed our pattern, but then, like some four colour Ouroboros, I'm eating my own tail.
Rob Rudderham, April 2020