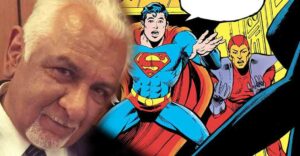 Comic book artist and cartoon storyboarder Jim Janes, known for his work on Legion of Super-Heroes and Teenage Mutant Ninja Turtles, has died. Janes' death was confirmed on Twitter on Friday 4th September by his former collaborator Paul Kupperberg. "I just learned of the death of artist Jim Janes, my long ago collaborator on the Secrets of the Legion of Super-Heroes miniseries," Kupperberg wrote. "Jim was a complete pro who didn't blink at these overstuffed scripts. 'It's the Legion,' he said. 'Bring them on!'"
Details on Janes' life are scarce. According to his Facebook page, he was from Staten Island, and attended New York's High School of Art & Design, as well as the city's School of Visual Arts in the 1960s. His first comics artwork appeared in 1972, in the second issue of George DiCaprio's underground Greaser Comics, and was followed by a story for Charlton's The Many Ghosts of Dr. Graves in 1973, with further assignments following for Warren's 1984/1994, Rook and Eerie.
In 1981 he illustrated the mini-series Secrets of the Legion of Super-Heroes and went on to become the regular illustrator of the Legion's ongoing title for more than two years, in addition to work on House of Mystery, Superman Family and occasional assignments for Marvel. By 1983, however, he had grown dissatisfied with comics, partly due to the response to his work. While his deadline-busting pencils were appreciated by editors, they were not well received by the notoriously vocal Legion of Super-Heroes fandom. Turning to the then burgeoning field of TV animation, he worked as a successful storyboard artist on many shows including RoboCop: Alpha Commando, Extreme Ghostbusters, Exosquad, The Karate Kid and Teenage Mutant Ninja Turtles, as well as many cartoons based on comics properties such as Swamp Thing, The Incredible Hulk, Batman: The Animated Series, Spider-Man: The Animated Series and X-Men: The Animated Series.
In more recent years, he had begun interacting with the comics world again, selling recreations and new drawings which demonstrated a much more sophisticated style than his earlier works. The exact date of his demise, as well as cause of death, exact age and any surviving family, is unreported at time of writing.