Red Circle Sorcery: Archie's Best-Kept Secret
Following certain relaxations of the Comics Code Authority in the late 1960s, comics, led by DC, revisited the defunct horror genre. The precedent, of course, had been set by Warren publishing's 1964 release of Creepy (to be followed up by Eerie), horror comics anthologies released as larger format black & white magazines, therefore exempt from the Comics Code's aegis. Their success demonstrated that the audience was still present, and DC editor Joe Orlando, himself an alumnus of the classic EC horror line and a contributor to Creepy et al, seized the opportunity to revive the field in four-colour format.
Titles such as House of Mystery and House of Secrets, previously devoted for more than a decade to tepid science-fiction or alien/monster/robot tales, returned to chilling form with contributors such as Toth, Wrightson, Adams, Wood and more recreating the suspenseful stories of yesteryear, without the frequently excessive gore and viscera which had caused them to be condemned in the first place. Shortly thereafter, the venerable Unexpected followed suit, to be joined by new titles The Witching Hour and Ghosts, forming the nexus of a horror/mystery line which endured for two decades.
Predictably, other publishers jumped on the bandwagon; Marvel's Tower of Shadows and Chamber of Darkness were replete with high-quality work from top-notch creators, but the unstoppable demands of the Marvel Superhero Universe meant that within the year Marvel's horror titles (of which there were many, lasting until the end of the 1970s) became reprints chosen for page length rather than quality.
The eternal also-ran Charlton, however, made a go of it, with multiple titles such as Many Ghosts of Doctor Graves and Ghost Manor running from the late 60s to the early 80s. Their crank-it-out schedule meant there was a terrible lot of trash, but frequent gems also, from Steve Ditko, Tom Sutton, Jim Aparo and early works by Mike Zeck and Don Newton.
In all this sudden flurry, one high quality line of horror/mystery comics crept out all but unnoticed. I, personally, didn't encounter them until almost a year after they were all over, and having been active in comics fandom since 1972, I really was surprised they got past me.
Darlington, 1976; my first job, working in a book exchange, sorting through the second-hand American comics. In among the interminable Charlton adaptations of unseen TV series, I found a comic entitled Sorcery. Intrigued, I looked through, and saw pages of lovely artwork by Gray Morrow, one of my favourite artists, in a series previously completely unknown to me. These beautifully-drawn, skilfully-told tales of the supernatural easily rivalled the DC mystery line (which by that time was getting rote and repetitive, relying on lesser artists), and I couldn't believe it had eluded me.
Thus began a quest to 'catch them all' – something I only finally achieved in the early days of the 21st century. Not that there are that many – 12, to be exact. But they're not at all easy to find, and the history is kind of peculiar.
Dated September and October, 1972, Archie Comics produced a peculiar title: Chilling Adventures In Sorcery, as Told By Sabrina. Yep, that Sabrina, the Teenage Witch. Sabrina was still going great guns in her own Bewitched-esque light comedy title, and had been the star of an animated TV show a few years earlier. But this two-shot title featured Sabrina narrating horror stories – some of them quite strong for Code-approved fare – which were illustrated by Stan Goldberg in the traditional cartoon Archie style, resulting in a cognitive dissonance which is quite unsettling to the viewer.
These two issues sank pretty much without trace. The fact that they were released in consecutive months indicates that they were only ever intended as a 'tryout', not intended as ongoing. But a full year later, dated October 1973, saw the release of Chilling Adventures In Sorcery #3, cannily re-purposing an existing title to save copyright licensing fees.
This was a very different series. From the stunning cover, featuring a range of classic horror figures, it was clearly not for the kiddies. Illustrated throughout by Gray Morrow, who also edited the title and pitched the concept, the four stand-alone stories – plus a one-page 'Essays Into the Supernatural' feature – were skilful, evocative and haunting. Published under the Red Circle imprint, to differentiate it from the anodyne adventures of Archie et al, the nervous publishers guarded their public image, but committed to further issues.
And what issues they were. The debut, #3, is the only issue to be drawn entirely by Morrow, but he provided all of the striking covers, plus frequent interior stories. His realistic style was the template – with a handful of exceptions – the naturalistic depiction grounding and adding verisimilitude to the supernatural events. The quality was maintained throughout, with contributors such as veterans Vincente Alcazar, Alex Toth, Doug Wildey, Carlos Pino and Pat Boyette, plus relative newcomers (at that time) Frank Thorne, Howard Chaykin and Bruce Jones.
The sso ries suffered from poor distribution even in its native America (and was almost unseen in the UK at the time of release, even more than mainstream Archie's patchy and highly regional distribution), but nevertheless appears to have been a modest success. Chilling Adventures In Sorcery (which re-tweaked its title into Red Circle Sorcery before finally settling on simply Sorcery) actually gained a companion title, briefly – and that's another peculiar tale.
Since 1959, Archie's Madhouse had featured lightweight satire and parody, featuring not only Archie's Pals N' Gals, but other recurring characters, such as dollar-store super-hero Captain Sprocket and, most famously, the aforementioned Sabrina, who made her debut in issue #22. It was amiable comedy, trundling innocuously along, a diet-Mad for the younger set.
Until issue #95 (dated September 1974), when it flipped over into Madhouse, a horror title identical in style and content to Sorcery – which must have been quite a jolt to the parents of young subscribers, especially when #96, with a surprisingly risqué cover for 1974, plopped through the letterbox!
The 'horror makeover' for Madhouse lasted only three issues. With #97, January 1975, Madhouse was cancelled – the same release date as the final issue of Sorcery, #11. Madhouse was actually revived with #98 later in the year, but with the same cartoony parodies as before, the horror interlude determinedly disregarded.
The reasons behind the cancellations have never been quite clear. In the broader market, readers certainly hadn't turned away from horror – DC's and Charlton's mystery lines both thrived into the 1980s. The quality of the titles was, at the time of their release, unmatched. And there must have been some 'buzz' around Sorcery to produce a companion title, however short-lived.
One can only speculate that there was a managerial change of heart, possibly in response to reader feedback – maybe the (albeit strategically) topless young lady on Madhouse #96's cover drew too much ire from Middle America!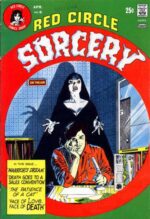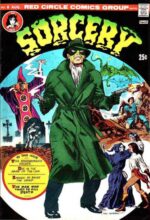 But for 12 issues – Sorcery #3-11, and Madhouse #95-97 – there was briefly a line that matched, if not outstripped, the finest that other publishers of horror/mystery comics were publishing, and it remains, paradoxically, almost unknown even to this day.
Will Morgan, May 2020