Secrets Of The Secret Six: DC's 'Mission: Impossible'
(with grateful acknowledgment to Keith W. Williams, whose similarly-titled article in the 1970's informed much of my thinking on the topic.)
The TV show, Mission: Impossible, debuted in 1966, each episode opening with the team's field leader selecting a task force from multiple dossiers to combat the Menace of the Week. In theory, this could have resulted in a cast of dozens; in reality, contractual obligations 'selected' the same series regulars plus maybe one guest-star, but nevertheless the series was a huge hit, running to 1973 for more than 150 episodes.
What's this got to do with comics? Well, in 1968, DC was changing. Responding to the challenge posed by the rise of Marvel Comics, they were trying for new audiences, and a lot of experimental titles were being launched.
One such was Secret Six, a 1968 launch featuring a team of specialists recruited to perform covert missions, taking down targets beyond the reach of the law.
Writer E. Nelson Bridwell had clearly been briefed to rip-off Mission: Impossible as closely as possible, but, similarly to his earlier work on the Inferior Five, he took that remit and tweaked it into something quite distinctive.
In this case, the six protagonists were, as per M:I, specialists with distinctive skill sets, but each also, possessed a secret weakness in their past which, if disclosed or exploited would cause imprisonment, disgrace, or death. The 'secret' in the series' title referred therefore not only to the furtive nature of their missions, but to the shadowed pasts of our various heroes.
And the biggest secret of all was that the group's mysterious handler, code-named Mockingbird, his or her appearance and voice disguised in their pre-recorded briefings, was one of the team;
King Savage, stuntman and Korean War veteran, broke under torture and betrayed his country; Mockingbird arranged his escape so that he became a decorated hero – but the truth would reveal him as a traitor.
Carlo Di Rienzi, escapologist and magician, whose wife was killed and his son crippled in a revenge attack by organized crime; with Mockingbird's treatments, the boy will walk again – as long as Carlo plays ball.
Lili Du Neuve, actress and disguise expert, falsely accused of murder and headed for the guillotine, until an equally mendacious alibi got her acquitted. But the alibi can be recanted at any time.
Tiger Force, former heavyweight champion on the run from the Mob after refusing to throw a fight, given a new name and life by Mockingbird;
Dr. August Durant, noted physicist, infected by enemy agents with a lethal virus for which only Mockingbird has the cure – one pill, day by day, to ensure 'Doc's' compliance.
And Crimson Dawn, model, whose unusual upbringing gave her prowess in martial arts and marksmanship, but whose naiveté led her into an abusive marriage. Mockingbird reinvented her into a glamorous icon – whose sordid past could be revealed at any time.
Each issue Mockingbird assigned the team to incriminate, incarcerate, or sometimes dispose of, enemies of the free world, international operations (unusually for the time, fully half our heroes were non-American) with meticulously-constructed plots, relying on no contrivances or 'cheats', and grounded firmly in the bounds of reality; no superhumans or supernatural elements in the Six's world.
This verisimilitude was aided by artists Frank Springer (# 1-2) and Jack Sparling (#3-7), whose naturalistic style added conviction to the series. In the case of Sparling in particular – a notoriously inconsistent artist, whose on-page presentation varied widely from one assignment to another – his work on the Six was some of his best.
I mentioned earlier that credibility was a keynote of the series, but there was one overriding narrative coincidence; after the first couple of establishing issues, fate conspired to link the Six's cases with events in their own histories. Over the course of the series, Lili revealed the true perpetrator of the crime she had been accused of, Carlo avenged the murder of his wife, and Crimson took healthy revenge upon her former husband, among other events. Had the series continued a few more issues, Mockingbird's hold on the various members might have become so diluted as to be meaningless – although doubtless ENB would have come up with more reasons why the Six continued to operate.
As it happened, though, he was denied the opportunity. Secret Six was cancelled with #7, one year after launch, and the group seemed destined to become a footnote in comic history, with the identity of Mockingbird still unrevealed.
Until 1988 and DC's ill-advised and short lived attempt to relaunch Action Comics as a weekly anthology title, with a number of short serialized strips. Most of these were pretty dismal, but one stood out as a quality successor. In Action Comics Weekly #601, writer Martin Pasko brought us a new Secret Six series.
Unlike most comics characters, who live in an eternal ageless 'now', the Six had aged in real time. Twenty years after their last recorded adventure, the youngest was now in her forties, and the elder teammates pensioners, broken down by age and infirmity. After two decades of inactivity, they were summoned once more by Mockingbird to train their successors – but en route, their plane crashes, with fatal results.
The new Secret Six, therefore, have to go into the field untrained. Mitch Hoberman, special effects tech crippled by arthritis; Ladonna Jameal, actress disfigured and rendered mute by an acid attack; Tony Mantegna, journalist deafened in an explosion; Luke McKendrick, paraplegic former track star; Vic Sommers, ex-marine blinded by shrapnel; and Dr. Maria Verdugo, computer scientist with incurable epilepsy.
All have variations on the same motivation. Having become disabled, their natural abilities are restored by cybernetic devices, enabling them to resume their former lives – and to do Mockingbird's bidding.
Because one of the original Six survives. And Mockingbird can remotely disable his (or her) 'gifts' at any time, if the Six fail to comply.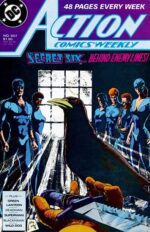 In two 12-chapter serials (Action Comics Weekly #601-612, and #619-630), Pasko did an exemplary job of evoking the original series and updating it, tying in missions to a larger story arc, and eventually resolving the question of who was Mockingbird, in a way that was entirely appropriate and satisfying to readers of the original.
In this, he was aided by two veteran artists; the criminally underestimated Dan Spiegle illustrated the first serial, and in a pleasing nostalgic touch, the second was drawn by Frank Springer, the very first Secret Six artist. Each skillfully retained the authentic grounding of the series, with only one fantastic element – the cybernetic/bionic devices supplied by Mockingbird, borderline science-fiction in their sophistication – not detracting from the strip's matter of fact tone.
The strip concluded with the possibility of a new Mockingbird, and a further sequel; but having been largely lost in the morass of inferior material ACW – often described as Action Comics Weakly because of its shoddy content – the strip caused no 'ripples', and, the title having been shoplifted for Gail Simone's unrelated super-villain team-up title, the Secret Six remains unacknowledged by the DC Universe at large.
Well, except for the far-better-than-it-ought-to-be Scooby-Doo Team-Up; in issue #30 (of the print version; #59 & #60 of the online version, don't ask) the original line-up of the Secret Six made an appearance, together with Cave Carson's crew, Rip Hunter's team, the Challengers of the Unknown and the Sea Devils. It's not canonical – but it is charming as hell, and, again, the secret of Mockingbird is disclosed!
Fear not; there will be no spoilers here. You want the identity of Mockingbird, you won't get it from me. Google it. Or better yet, buy the comics – there aren't that many to hunt down, and they well reward reading.
Will Morgan, May 2020